(Key Largo, FL)
Our friends Jim and Arlene arrived Monday! They'll stay for four days and will move twice within campground to different sites. Sometimes ya just gotta do what ya gotta do.
We have been enjoying our time with them so much. Arlene and I had a girlfriend day when we went shopping on Monday. Granted there aren't many stores here but we made the most of the choices we had.
Bob's Basement Fridge arrived today. Poor fella didn't want to have to come inside to get an adult beverage so we ordered this small fridge from K-Mart. Its fits very nicely in the basement compartment and keeps that beer very, very cold!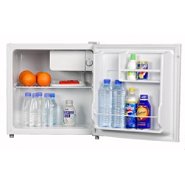 Arlene and I made a run to the local veggie stand.
See those tomatoes just right of center? REAL plum tomatoes! Not forced, hothouse but REAL vine grown ones. On the right hand side of the picture behind the barrel is another bin of tomatoes. Nice big tomatoes for slicing and sandwiches. Again, real tomatoes and not forced,hothouse. Ones with real tomato flavor. Oh I am so in heaven! The young lady assured me that we would have them all winter long. The prices were really good at this veggie stand so we loaded up. She had lots of samples out so we tasted the watermelon. Oh my, just as sweet as could be so that was added to our ever growing pile of fruits and vegetables.
Arlene, one happy camper with her fresh fruit and veggies.
We spent our evening sitting out as long as we could, until the noseeums and mosquitoes drove us inside. We never seem to run out of things to talk about with this couple. Actually, its quite scary that we are so much alike. We all seem to like the same things, agree on politics, find humor in the same things and truly enjoy each others company. Arlene even wrote on her FB page that if she and Jim ever had clones it would be Bob and me. Good people we are glad we met for sure!